include ("http://www.info-world.com/bodytext.php"); ?>
French tutor teaches French language in South of France
Learn French from a native with fluent English teaching in the South of France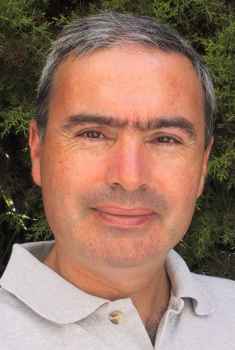 Pascal Teisseire teaches French to English speaking visitors wanting to learn or improve French language skills.
His clients include foreign residents on the French Riviera, businessmen in France and families on educational holiday. He even commutes for teaching assignments in England near to airports served by Easyjet - he's good!

Pascal is based in Nice and is willing to drive to local towns from Grasse and Cannes to Mandelieu, Monaco and beyond to Menton for tutoring all ages in French.

Whether you are a businessman and looking for French language training to improve your language proficiency for professional use or whether you are a family just on holiday, Pascal is your French teacher! French lessons for children of 7 years upwards can give your children a head start at school. He is familiar with French teaching programmes in schools.

It's important that your French teacher is certified so that you can be entitled to benefit from state money available for professional education - and Pascal operates a certified language school. The school can arrange for Italian lessons as well and provide Italian and French translation services.

If you are planning on doing business in France a good command of the language is essential and not all places are as cosmopolitan as Antibes, Nizza or Cannes where many French speakers will break into English if you are having difficulties with your French . . . So French coaching could save you millions in misunderstanding! If you have a yacht, some basic tutoring of your crew in French (or English) could help expensive mistakes to be avoided . . .

Pascal's background includes teaching French at the International School of Nice as well as English to French computing students. He has a Masters Degree from the University of Nice and a Bachelor Degree from the Sorbonne Nouvelle in Paris.

He is able to come to your premises or private house in the area for private tutoring.
Personal tutoring
Pascal offers flexibility and provides a personal service tailored to the specific level and needs of his clients. He offers services from a full course in French to merely helping in specific areas and brushing up colloquial linguistics.

Pascal's pronunciation is standard French, focussing on phonetics, and without a hint of the southern twang! But if your perfect French gets confused by the regional accent, Pascal can guide you.

Of course, being a true Frenchman, he also takes pleasure in French food, wine and culture and is happy to introduce you to cooking and the culinary delights of the region. His other passion is art and the numerous and exquisite museums of art, artists and painters who have worked on the French Riviera. Of course such interests can make learning French language a real pleasure - after all this is France!
Charges
Charges depend upon travelling distance, time involved, numbers of people etc. Please enquire. Tarrifs range from 32 to 70 euros per hour depending on length of time of lessons, season, numbers of people, location and standard of teaching required. Obviously teaching lessons for business applications to achieve professionalism is more onerous than private people simply learning French language for pleasure.

Please email Teisseire Formation at frenchteacher@antibes.co.uk

$url = explode("/",$REQUEST_URI); echo "
"; ?>

Holiday Accommodation available in the South of France:

include ("http://www.info-world.com/footer.php"); ?>