UK AIRBEDS AIRMATS AIR MATTRESSES FOR TRAVELLING CAMPING POOL BEACH AND SEASIDE
RETAIL AND WHOLESALE
* * * RECOMMENDED Ultra comfortable supportive air mattress for beach, pool or for sleeping on 18 in stock| * * * GOOD VALUE Giant 4 tube extra comfort coloured printed transparent airbed for the beach and seaside 24 in stock | * * * GOOD VALUE Luxury high quality tough 18 pocket French Mattress for Camping beach and pool (People who have bought these airmats report that they are tough - MOST POPULAR TYPE ) 170 in stock - possibly good WHOLESALE price - please enquire | Tougher Sevylor French airmattress 4 inches larger for taller people - 6 in stock |* * * Titanic unsinkable pool lounger 48 in stock | * * * Double width 36 pocket airbed 1 silver 1 blue in stock | * * * Luxurious Shell shaped pool toy very highly recommended for complete relaxation 0 in stock - alternative available | * * * Luxury Transparent air mattress for swim fashion photography and for observing fish in the Maldives - NOW AVAILABLE 24 in stock - Sevylor Cool Clear Blue - 0 in stock | * * * CHEAPEST Cheap pool toy airmat ideal for children's fun wholesale and retail - buy 5 of these for the same price as a good one and it doesn't matter how many the kids trash! 36 in stock - often bought in bulk for corporate promotions. Hot Flame design - 60 in stock - possibly good WHOLESALE price - please enquire Excellent for party sleepovers. | Relaxing chaise ideal for cool conferences - 6 in stock | -->Inflatable chair pool lounger heavy duty 12 in stock - Sevylor blue / white chair - 0 in stock | * * * Zig-Zag wave air mattress for water, beach and sleeping on 10 in stock | * * * Giant inflatable toy whale 5 in stock, also inflatable 6ft alligator, shark and dolphin | * * * RECOMMENDED FOR OVERNIGHT SLEEPING Union Jack air mattress - has a white back - excellent for printing a logo on the back for corporate promotion, comfortable for sleeping on 24 in stock | * * * canvas airbed PVC rather than rubber but OK for those who liked the 1960s canvas lilos - comfortable for sleeping on 4 in stock | * * * Boa Buddy swimming aid - 3 in stock | * * * Outrageous Russian fantasy airmattress - to cause a smile on the recipient's face - ideal for an amusing Christmas present and guaranteed to walk off if left unattended - 36 in stock | Tips for looking after your inflatables |Ordering
Normal cheap lilos inflate to around 17" or 18" wide, the giant or 18 pocket luxury ones to around 24" wide, whilst the Titanic is around 36". | Film shoot hire and historic collection | PLEASE READ information about quality and use - Disclaimer | Postage
---
As well as the Sevylor brand products which are good for taller people, we have stocks of the Shell - 18 pocket - Sevylor double width lilo, extra large 78inch) - Maldives fish observation window airmat - striped chair - super comfort air mattress pool toys and Boa Buddy swimming aids from this range.
---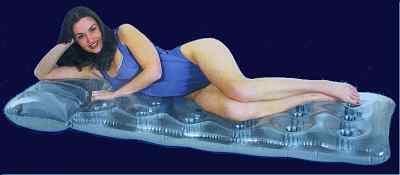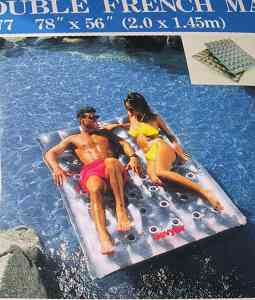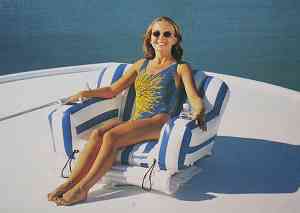 ---

---
What people say about buying airmats and air mattresses from this page - Please also leave your feedback here about buying from us!

We don't go for the cheapest products: we aim to source, stock and supply the best quality. All types of airbed, air mat are tested for sleeping upon and for durability at the beach or on the pool and are personally recommended. We do not stock air mattresses that we cannot be comfortable in recommending and we hope that the comments about each inflatable below are helpful. PLEASE NOTE - WE STOCK THE BEST POSSIBLE QUALITY AIRMATS AND ALL ARE FACTORY PRE-TESTED AND ARE BETTER MADE THAN THE CHEAP ONES OF YEARS AGO - HOWEVER - USERS MUST BE CONSCIOUS OF SAFETY. . . AIR MATS ARE NOT INTENDED FOR STANDING UPON NOR JUMPING UPON - INFLATABLE TOYS ARE NOT INTENDED FOR USE IN DEEP WATER OUT OF SWIMMING DEPTH - THEY SHOULD NOT BE USED BY CHILDREN WHO CANNOT SWIM AND BY OTHERS ONLY UNDER STRICT ADULT SUPERVISION - AN AIR MATTRESS IS MADE FROM PLASTIC WELDED TOGETHER AND CAN BE PUNCTURED OR MIGHT DEFLATE SUDDENLY
THEY GIVE MANY PEOPLE A LOT OF PLEASURE AND NONE OF OUR STOCK HAVE GIVEN PROBLEMS AND ARE GOOD QUALITY . . . BUT THEY ARE SOLD ON THE CONDITION THAT YOU ACCEPT THAT THEY ARE USED AT YOUR OWN RISK
Postage - bulk is better! Single lightweight items are around £4, single heavier quality items are around £6 whilst £12 covers a whole box full! Recent orders have included numbers of inflatable shells, whales and cheaper inflatable toys for children's pool party fun and postage was around £12.
Orders up to the number in stock can be supplied by return of post. Wholesale orders or for numbers beyond those in stock are available within 10 days. NB: If we do not have enough airbed pool toys listed in stock for your wholesale requirements, please let us know. We get deliveries from one importer every Thursday and from another within a week of our order.
We supply airbeds, air mattresses, beach and pool toys by post in England Scotland and Wales, even Ireland wholesale and retail - but you may be viewing this page from other countries . . . Even if you are not ordering from us on this occasion, please can you email to let us know which inflatables or airmats pictured below you like and this will help us to stock up for out of season orders . . . Thanks!
Please scroll down this page to see different designs.
---
LUXURY GIANT 4 TUBE AIRMAT OF GRE DESIGN - in stock
Wholesale and retail

Large 75 x 34 inch air mattress - the largest most luxurious airmats / airbeds available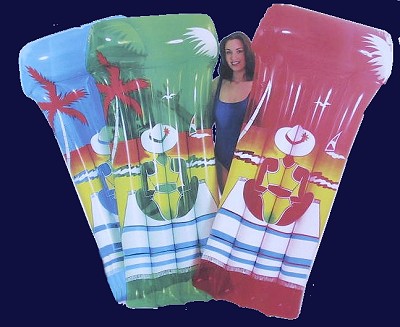 You might have come across giant airmattresses made by Gre if you have been to Mallorca. These extremely comfortable airmats are now made in China and available in the UK and are the closest available product to the size and comfort of the lilos of the 1960s. This particular type is a printed transparent glossy design, not recommended for sleeping on for camping, but wonderful on the beach or on the water. If you are going somewhere where the water could be cold, this type is large enough to enable you not to get too wet. In hot weather it's likely to expand a little and become even more comfortable.

If you are a photographer doing a swimwear fashion shoot, these are ideal to set the scene in the background. We were delighted to receive a sample shot taken using a couple of these by blackblue photographic and we were pleased to have helped to have made the shot. NEW TYPES: we have stock of the old type in red, green and blue. The new stock is in Red and Blue without handles, Orange and Blue with handles for hanging on to whilst surf riding. We have also especially imported a limited quantity from France of a type with plain non-glossy, non-transparent PVC which are superb for sleeping on.

Retail 1 to 6 at £10 each or £90 for a dozen or significant discounts for large wholesale orders. Stock: 24 For other current large airmattresses in stock see Sevylor below
TO ORDER
Please email first for availability and click here for contact details and address to send cheque
Credit card ordering may be possible on certain products through C&N below. Please email
---
- Cheapest - For overnight sleeping - Good value - Good value - Special Ultra comfortable -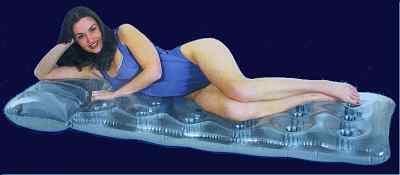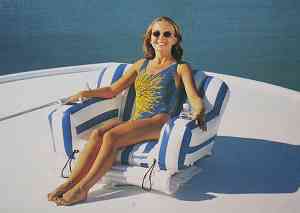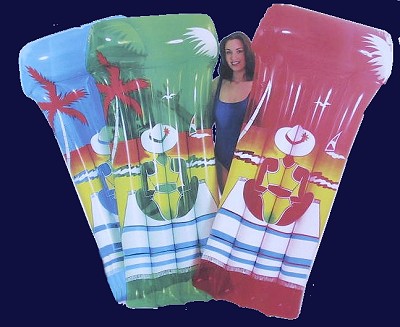 ---
HIGHLY RECOMMENDED LUXURIOUS SHELL SHAPE POOL TOY - THE BEST FOR POOL FUN AND SEA RELAXATION
This new type has just been tried out by the webmaster and cannot be recommended enough! It's SUPERB! The photo above was taken in a studio and the model doesn't look wholly comfortable . . . Put this pool toy in the water in the pool or sea and you have the most relaxing float you've ever dreamed of. There's virtually no possibility of falling off and whether you're floating on your front or back, one's arms easily paddle you each side of the pillow. The pillow is large enough to support most of your weight so you can virtually sit up . . . and the contours provide foot and arm rests. You can curl up in the middle of it or stretch yourself and extend your legs to dangle your feet in the water. This pool toy is the envy of the most fashionable beach in the South of France. If a hotel had a dozen of these for their health club pool they could provide the ultimate in relaxation therapy. If you have children, they're big enough for two or three children to have fun on. -


NEW DESIGN


The old design is no longer available but we have just three remaining of these fantastic replacements.
Email the webmaster if you want to buy one. £22 + postage £5. Discount if you want 5 or more.

Current stock: 12 Ordering
---
- Cheapest - For overnight sleeping - Good value - Good value - Special Ultra comfortable -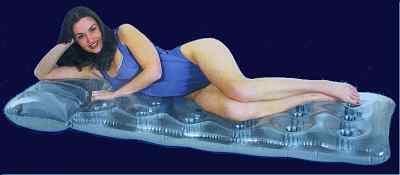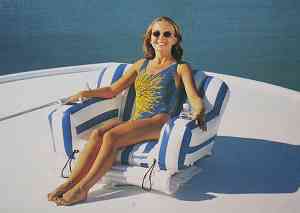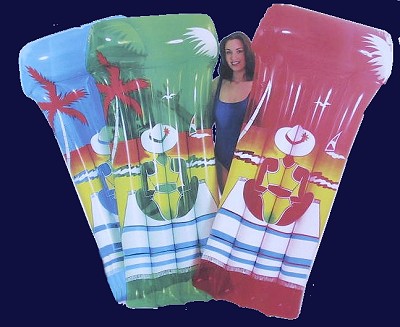 ---
LUXURY WIDTH CLEAR TRANSPARENT BEACH AIR MATTRESS - IN STOCK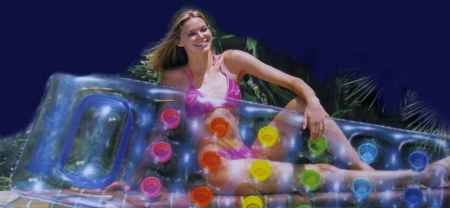 We have just acquired a small stock of transparent air mattresses that you can see through, originally made to special order for a Swedish photographer film maker to take photos through. Very unusual and extremely hard to find. £30 each + postage.

CURRENT STOCK IS A BETTER DESIGN: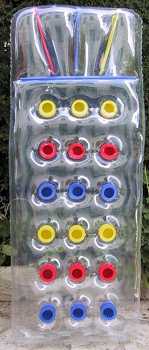 Please email the webmaster to buy or hire any of these. These are popular for photographers, often for taking glamour photos, and also they are excellent when holidaying on beaches with clear water for seeing the seabed and fish so popular for the clear waters of the Maldives. (If there are jelly-fish around, you can see them too and avoid them!)
Hi thank you again for getting the Air Beds to me in time. Hope you got the cheque OK. Attached are a couple of pics of them experiencing deserted Island in the Maldives this Christmas and New Year. They were good, a lot of puff to get them up but the Maldivian lads enjoyed the 2 dollars to do it. Mine weathered the corals on occasion even with my bulk; others used the cut-outs as drinks can holders when we were not looking (Carlsberg fitted perfectly). Un-fortunately our excess baggage was too much on the way home yesterday and so we had to leave our beloved beds at Male airport so you will be hearing from me before Easter when we return to the Indian Ocean.
Stock:
24 IN STOCK for sale with a slightly different pillow design that is actually better . . .
Sevylor type with transparent window for seeing fish and the sea bed - 0 IN STOCK BUT AVAILABILITY CAN BE ARRRANGED WITHIN A WEEK
Brand new for photographic and film hire, 2 available at £15 per week each
For holiday use FOR HIRE, 6 available at £7.50 each per week. These have been used before and are guaranteed in good condition. They are extremely well made and are almost indestructable, and will not fail you in ordinary use.

If you want a mainly transparent airmattress and don't mind embarrassing or amusing people, the Russian fantasy is bound to attract attention. The webmaster took one of these to the Garoupe Beach and caused much hilarity. IDEAL AS AN AMUSING SAUCY CHRISTMAS PRESENT
Ordering wE ALSO HAVE STOCK OF THE SEVYLOR Azur transparent blue.


We supply these Sevylor air mattresses in the UK
---
- Cheapest - For overnight sleeping - Good value - Good value - Special Ultra comfortable -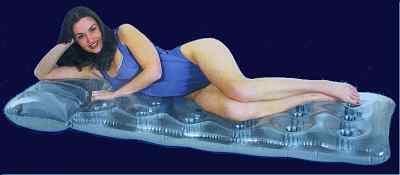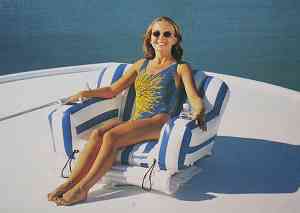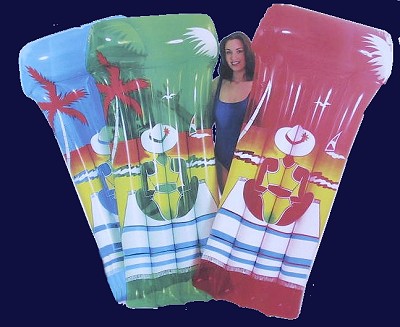 ---
DOUBLE WIDTH 36 POCKET AIRBED
Excellent for honeymoon fun!

Blue type on left - 1 in stock. Blue type in centre - 4 in France - Sevylor type to right, stock expected soon.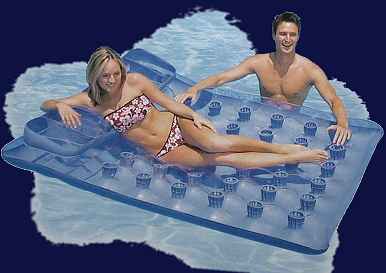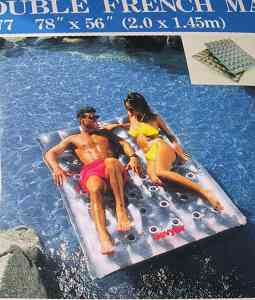 NEW TYPE! THE FUNKY DOUBLE AIR-MATTRESS
4 in stock


The new funky style has a bottle holder like a Champagne bucket on one side and a glass holder on the other.
Glossy top, textured silver or coloured underside. Great fun in the pool, on the beach, or on the sea - but be careful and make sure you paddle in the same direction. The webmaster and his wife tend to go around in circles on the sea. These airmats are wonderful fun for children - between 4 and 6 children can fit on one! But if you use these at sea, take particular care. Ok for camping too - put the glossy side down - and for honeymoon couples double lilos or twin airbeds are the next best thing to a water bed.
We have not found UK importers for them so they have to be brought back especially from France - and are therefore more expensive than I would like them to be. Email the webmaster if you want to buy one. £47 + £7 postage for 1 or £11 for 2 or 3.
Current stock: Blue - 1 in UK and 4 in France -=- Funky - 4 in stock, 1 pearlescent white colour (PHOTO BELOW) -=- 0 SEVYLOR double airmattress in stock in UK. We also have a blue and a white for hire for filming, £20 per shoot.
---
- Cheapest - For overnight sleeping - Good value - Good value - Special Ultra comfortable -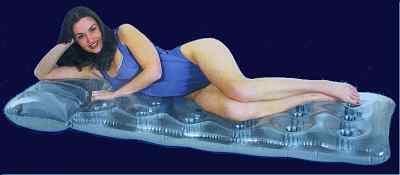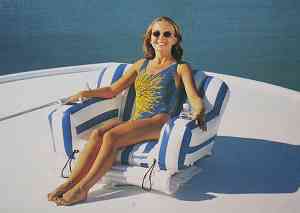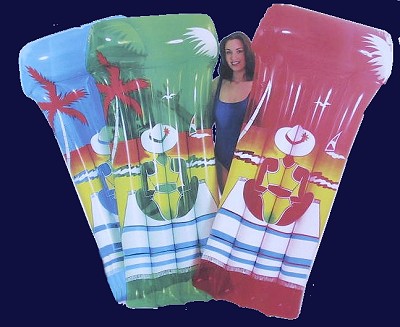 ---
BULK WHOLESALE and RETAIL CHEAP
CHEAP 4 TUBE DESIGN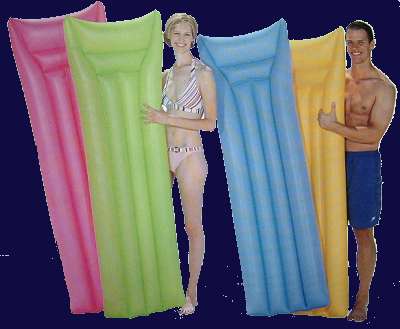 Bright colours ideal for corporate promotions, party sleepovers. This 4 tube design is much liked by children as the 4 tubes inflate to be slightly narrower than the 5 tube design. But as the tubes are larger you sink into it more for greater comfort. Likely to expand in heat. Excellent for beach, pool and sea but not for sleeping on other than for a few hours after a party or waiting for an early morning plane at an airport.
Available in inexpensive quantities of 5 or in wholesale boxes to special order. Some people enjoy killing lilos and bursting inflatables and if you or your children get a buzz out of this then these cheap ones are ideal. We do not sell individual ones as you might as well try to pop 5 whilst you're at it. However the webmaster has tried abusing one of these inflatables by overinflation, bending and twisting and it won't pop! Instead of popping they expand and get wonderfully bigger and don't seem to want to burst. Short of using a sharp object, they seem very difficult to destroy. Reckon they'll withstand children jumping on them and twisting them in pools and on the sea but customers say the tougher ones are better. Unlike any other inflatables on this page, we guarantee that we do not expect these to last a fortnight's holiday. Just 500 grammes to put in your luggage - whilst this is advertised elsewhere as an advantage, it is a reflection of their near-disposable quality. You can have 5 of these airmatresses for the same price as others on this page which you wouldn't want to kill. (We guarantee that all the other airbeds here are very difficult to burst anyway!) Perhaps this might start a craze for competitions to pop them - would be most hilarious (and surprisingly difficult!) and people who like extreme liloing have fun with them.

Joking apart, these are ideal to buy for a rest and offer cheap comfort during the odd emergency airport delay. We can do orders of 1500 even cheaper. Email to buy 5 for £12, 11 for £22 (better value postage) or 150 for £275 + postage / carriage IN STOCK: 36 Ordering

We can also get this type in glossy transparent Red Green and Blue but they cost around £325 for 150 to special order.

ANOTHER SORT

Less cheap, but good value glossy surface, not recommended for sleeping on but very flashy for the beach or pool, for stock for pool supplies and beach toys businesses - available in pearlescent or transparent - very fashionable. These are made by Sevylor and the higher quality results in better durability. WE NOW HAVE THE LAST REMAINING STOCK OF THESE SEVYLOR AIRBEDS IN THE UK.


Click here for apartments and villas near this beach


Available in boxes of 108 to special order. Please enquire on price for a box
---
HOT BED FLAME DESIGN AIR MATTRESS - IN STOCK

These are the cheap 4 tube typewhich are a nice warm black printed on one side with a striking flame design. Ideal for stage sets, visual effects or corporate promotions. Solid black colour on reverse. Very unusual. The black sections will become gloriously warm in the sun. £24 for 8 + postage. £130 for 48 + postage. 144 in stock


---
---
- Cheapest - For overnight sleeping - Good value - Good value - Special Ultra comfortable -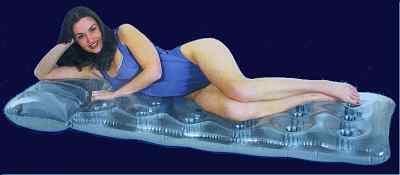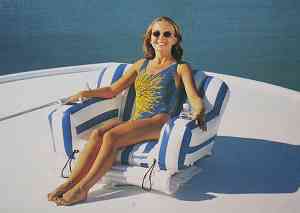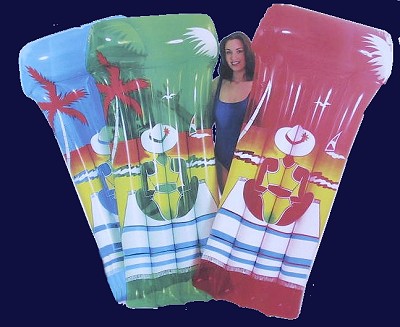 ---
LUXURY WIDTH 18 POCKET FRENCH MATTRESS IN STOCK WITH COLOURED POCKETS
Wholesale and retail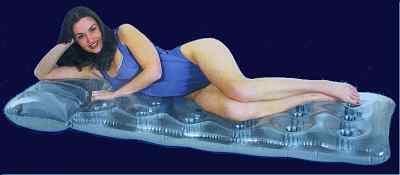 A purchaser this summer has ordered another two as presents: "the air mattress survived 2 weeks of battering by 2 large adults and still looks great" . . .

"French mattresses" - luxury 18 pocket suntanner, glossy transparent top, reflective grey underneath, high quality, tough (people who have bought these tell us that they outlast other types), wider than Aqua Fun 5 tube design, very comfortable for pool, seaside sunbathing and beach use, not bad for sleeping on too. Wider than standard and recommended for comfort. Honeymoon couples report durability and enhancement to their holiday experiences. They withstand having two people on top of them (although not perhaps heavyweight wrestlers!). They may be more able to withstand rough children than others.

Uninflated 74"x28" these inflate to around 25" wide. For extra tall people, see the 78" Sevylor type below.

Our current stock of 18 hole (18 trous - 18 pocket) air mattresses are a good design because the pillow is a separately inflatable chamber. When sleeping on this sort of airbed, use the reflective grey side up, and they are particularly comfortable because the joint between the pillow and the main part of the airbed allows a comfortable depression for shoulders and arms.
Email from here for good wholesale prices or retail orders of 1 to 11 at £12 each or £120 for 12 or £280 for 36. Postage £5 for one, £8 for two, £11 for 6 WE HAVE A LARGE STOCK OF THESE AND CAN DO BETTER WHOLESALE PRICES - PLEASE ENQUIRE

In stock - 176.Ordering
---
- Cheapest - For overnight sleeping - Good value - Good value - Special Ultra comfortable -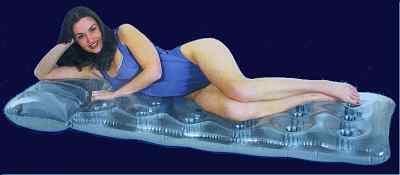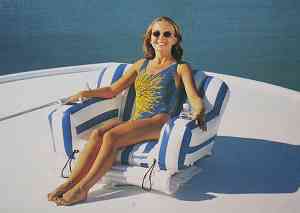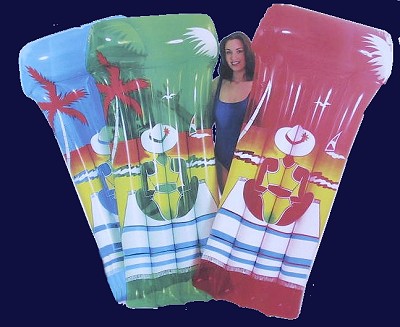 ---
NYLON FABRIC COVERED PVC AIRBED FOR BEACH AND CAMPING CAMP BED
Wholesale and retail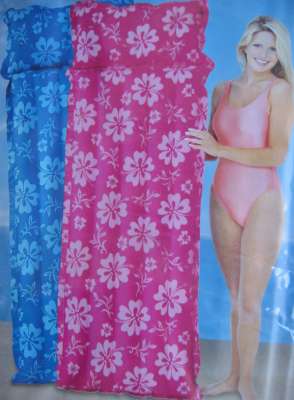 For those who are looking for a fabric covered airbed like the cotton or canvas lilos of their youth, this is the closest we have been able to find. Based upon PVC these are probably stronger than the original rubber types but if you're looking for a rubber one, sorry we can't find any. Good for sleeping on as a campbed for camping, these come in blue and pink.
Email from here for good wholesale prices or retail orders of 1 to 11 at £15 each or £150 for 12 or £300 for 36. Postage £5 for one, £8 for two, £11 for 6 WE HAVE A GOOD SUPPLY OF THESE AND CAN DO BETTER WHOLESALE PRICES - PLEASE ENQUIRE

In stock - 4.Ordering
---
- Cheapest - For overnight sleeping - Good value - Good value - Special Ultra comfortable -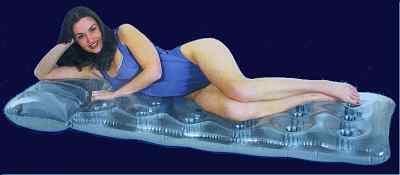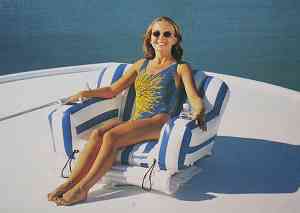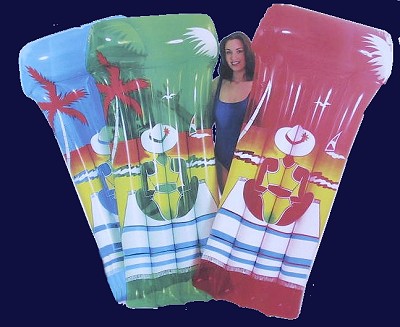 ---
NEW -
HEAVY DUTY SEVYLOR CONVERTABLE INFLATABLE CHAIR AND POOL LOUNGER - IN STOCK
the foot section folds out from underneath to enable this chair to double as a pool toy lounger. In use it is excellent. It is such good quality that it weighs 3.5kg.

Very popular at the beach (but don't take it swimming) to sit on as a chair or around the pool or to lie on on the water.

Email the webmaster if you want to buy one. £28 + postage £8. Discount if you want 5 or more.

Current stock: 5 - more expected within the month.Ordering
CHAISE POOL LOUNGER - 6 IN STOCK

A transparent relaxing chair which can be used on land or float on the water. The type in stock has a multicoloured interior rather than all blue as shown. If you have a hoover that blows, these can be inflated in seconds as they have a bung similar to those on flock air-mattresses. One customer bought two dozen of these for a film showing in a swimming pool. Ideal in quantity for cool conferences!


Email the webmaster if you want to buy one. £18 + postage £8. Good discount if you want 10 or more. SPECIAL OFFER£12 each for the once-used ones used at the film-showing

Current stock: 6 new - more expected within the monthOrdering

PLEASE SCROLL TO THE BOTTOM OF THIS FILE FOR ALTERNATIVE CONVERTABLE AIRMAT/CHAIRS AND CHAIRS made by SEVYLOR imported into the UK.
---
- Cheapest - For overnight sleeping - Good value - Good value - Special Ultra comfortable -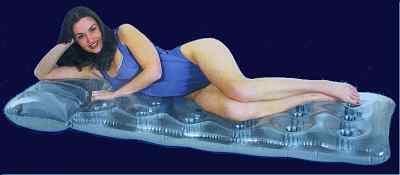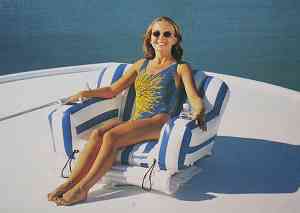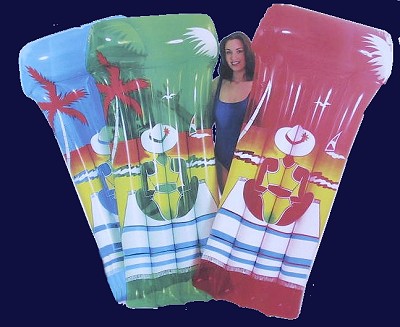 ---
RELAXING TITANIC POOL LOUNGER - IN STOCK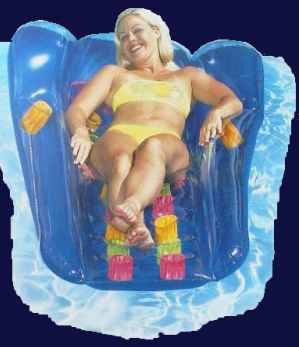 These are a massive 81"x54" and with buoyancy tanks on each side, they are luxurious and near impossible to fall off or to sink. The pockets are actually holes right through so that cooling water comes through and cools you down on a hot day like the Sevylor Miami Soak 'n Float, but bigger so we prefer it. The webmaster bought something like this in Ischia 10 years ago and it was the most gloriously comfortable thing in the water. Rather like the Banana Boat that was available a few years ago. Almost unsinkable. But don't take it in the sea - it's impossible to navigate. So comfortable that the webmaster fell asleep on one on a sunny afternoon in the sea and, if the wind and currents had been in the other direction, would have ended up miles out. Excellent for the pool and the beach.

A customer who bought one has ordered two more . . . Do you still have the Titanic lounger available ? - it's quite the best pool lounger ever. YES - we have quite a lot in stock!

NOW TWO DIFFERENT TYPES: holes or tubes. The ones with holes are like the 18 pocket type but open at the bottom for cool water and come in SILVER or BLUE. The tube type is like the Ischia variety has 3 tubes and comes in PURPLE or ORANGE with a course satin texture on one side and white smooth PVC on the other side. These are brilliant for sleeping on and better if you don't want water cooling. One cannot roll off either type!

Email the webmaster if you want to buy one. £18 + postage £5. Discount if you want 5 or more.

Current stock: 48 Ordering
---
(If you are looking for the Soak 'n Float specifically we might be able to find one to special order.)
---
- Cheapest - For overnight sleeping - Good value - Good value - Special Ultra comfortable -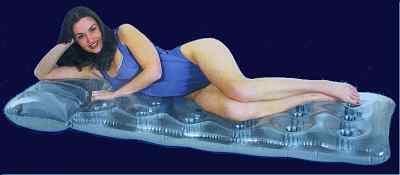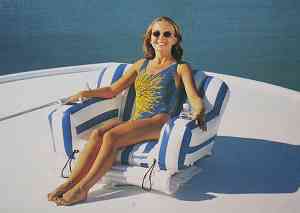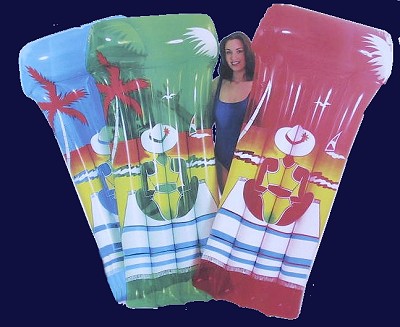 ---
ZIGZAG BEACH MAT AND INFLATABLE AIRMATTRESS FOR BEDS
This extraordinary air mat is around 2 inches thick and can be rolled up and taken to the beach. But if you don't like the mattresses of hard hotel beds you can put one of these underneath the sheets for soft supportive comfort. We have just 10 of these especially imported from France. They will often last 6 months or more of continuous use for sleeping on every night. It's also worth looking at the super comfortable Sevylor type below.

Email the webmaster if you want to buy one. £18 + postage £5.

Current stock: 10 Ordering
---
- Cheapest - For overnight sleeping - Good value - Good value - Special Ultra comfortable -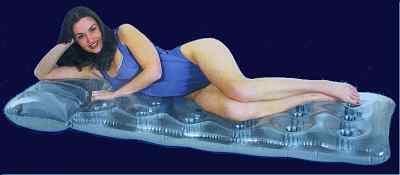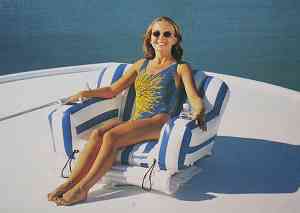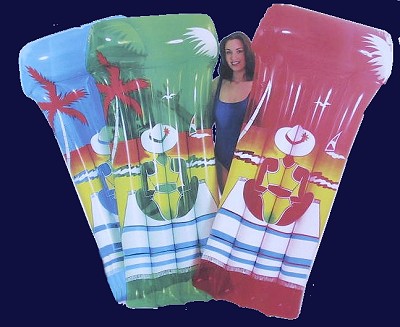 ---
GIANT INFLATABLE TOY WHALE, ALLIGATOR, SHARK AND DOLPHIN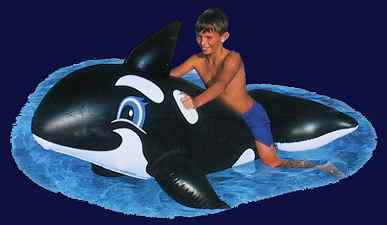 The whales are big - 80" long - and we supply Greenpeace for use in their campaigns against whaling. The other inflatable animals are around 72" - 6ft.
Email the webmaster if you want to buy one. £12 + postage £5. Discount if you want 5 or more.
Current stock: 1 Ordering
---
- Cheapest - For overnight sleeping - Good value - Good value - Special Ultra comfortable -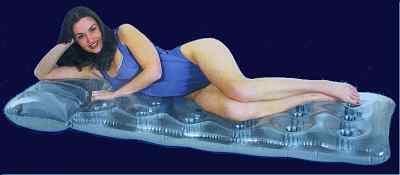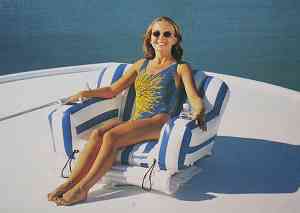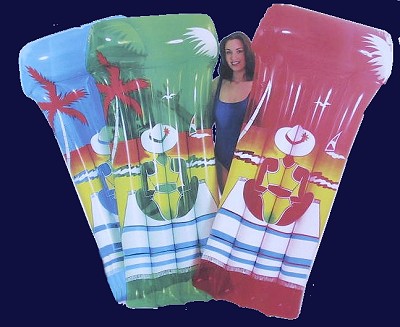 ---
UNION JACK AIRMATS - IN STOCK
Wholesale and retail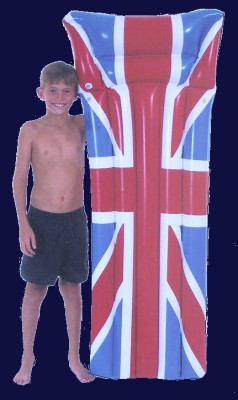 For truly patriotic stock these cannot be beaten! Smooth but not glossy surface recommended for sleeping on as well as for the beach.

IN STOCK: 5 Ordering
Retail:
£9 each - please click here to order
Wholesale Please enquire for wholesale orders from 6 to 1000. These Union Jack airmats are white on the back so provide an excellent opportunity for UK corporate promotion with logo printing on the back. Please enquire on price.
These airmats have another use! The white back makes an excellent and cheap blow-up blowup self supporting photographic reflector. This can be extremely useful and the webmaster used a number of these to take all the photos for this Polish Pottery website to surround each item with good light.
---
- Cheapest - For overnight sleeping - Good value - Good value - Special Ultra comfortable -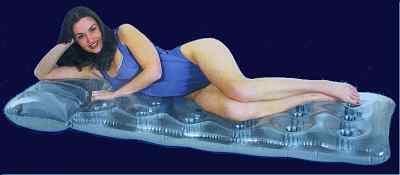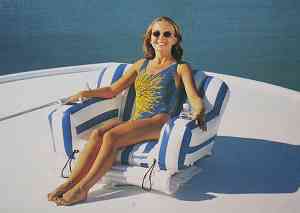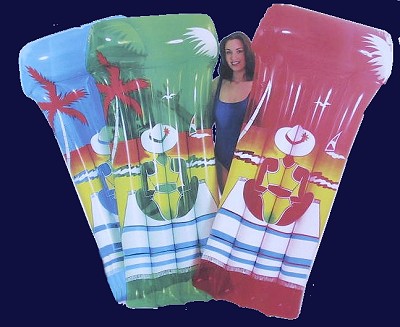 ---
Click here to visit the French beach where the French airmat was photographed.
---
SEVYLOR AIRMAT PRODUCTS IMPORTED INTO THE UK
Sevylor is the Rolls Royce designer label of inflatables and air mattresses. The products listed above are all of excellent quality (or else we would not sell them) - but Sevylor is the name for excellence . . . and they are a massive 78 inches high - ideal for tall people.

Many of the Sevylor products below are in stock whilst others may be available to special order. Here are the conventional Sevylor air mattresses:
The one with a
window for viewing the sea bed
78 inches long: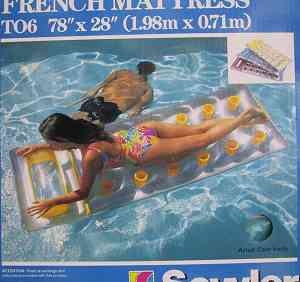 Price: £24 - IN STOCK - 24


A totally transparent blue design is available - see below.

For tall people to sleep on
without the "window" £22 - IN STOCK - 12

As is typical of the firm's products, they also aim for shockingly different styles and a certain chic in their design. Here's an
ULTRA-COMFORTABLE - ULTRA DURABLE AIR MATTRESS

Whilst pictured on the box in use by a child, these are full size for adults, superbly designed, durable and supremely comfortable
Click here for apartments and villas near this beach
Email the webmaster if you want to buy one. £22 + postage £5.

Current stock: 18 Ordering

One customer said she wanted something to take travelling as she did not like hard beds in hotels. I recommended this type and after trying it she telephoned me especially to say that it was the most comfortable thing she had ever slept upon
It supports the body all along the way . . .

This Sevylor air mattress aims for the fashionable with a
deep cool crystal transparent blue
design that is simply the coolest inflatable thing to be seen on water: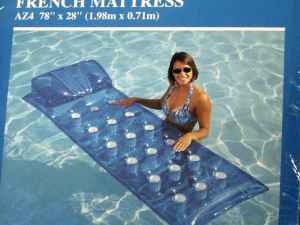 In stock - 12


Price £28
---
- Cheapest - For overnight sleeping - Good value - Good value - Special Ultra comfortable -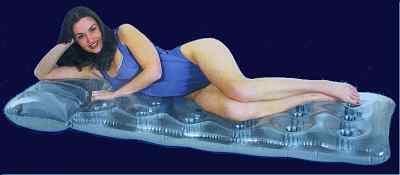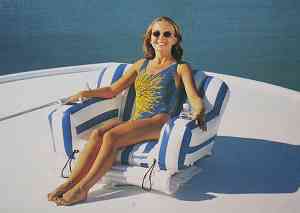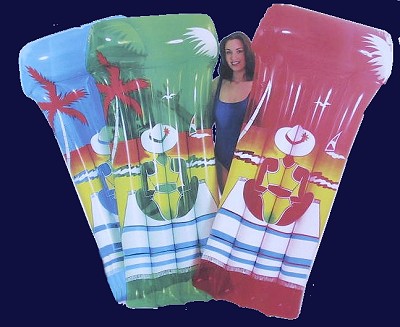 ---
The double inflatable airbed is wonderful for a couple whether on honeymoon or holiday and is great fun with children and as a pool toy. In the summer the webmaster's family managed 6 children on top of one! It's best not used at sea out of one's depth as it's a challenge to manoeuvre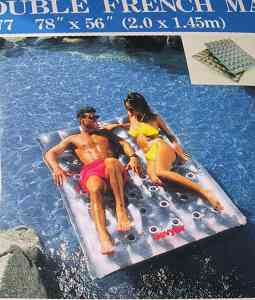 Price: £47 - IN STOCK 6

Here are a couple of the inflatable chairs
which show considerable innovation in their design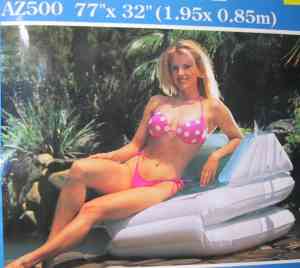 £47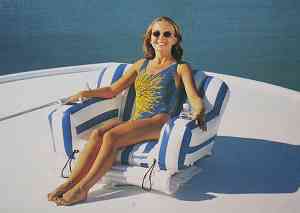 £47 - IN STOCK - 2
These have special clips on both sides so that they can be linked together


Guide price £60

We also stock the Boa Buddy snake whose tail goes through a hole in the head to make up a versatile ring or linear swimming aid. £6.50 each or £36 for 6
---
SEVYLOR BOA BUDDY
Boa Buddies are brilliantly versatile swimming aids. Fun as straight poles, the tail goes through a hole in the head and so forms a ring that can be used in different configurations.

Email the webmaster if you want to order. £6.50 each or £36 for 6 + postage £3 or £5.

Current stock: 10, delivery possible within 4 daysOrdering
---
- Cheapest - For overnight sleeping - Good value - Good value - Special Ultra comfortable -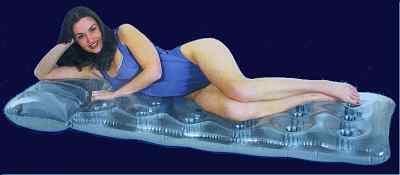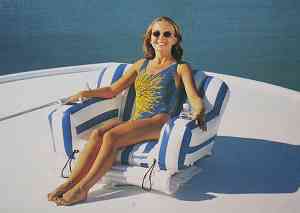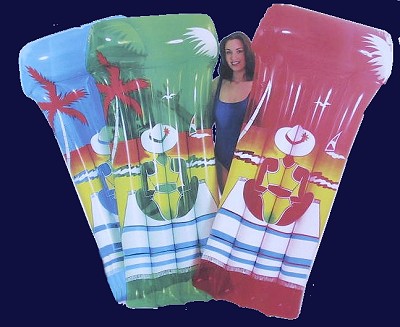 ---
---
By popular demand . . . a UK supplier in England of . . .
THE INFLATABLE MOBILE PHONE AIR MATTRESS AIRBED
Mobile phone with aerial - excellent for promotions for mobile phone shops: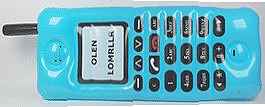 :-( Not currently available. Ordering
---
Something outrageous . . . a collector's item
THE BAYWATCH AIR BED
Only 4 left in the world so only available to hire for film companies: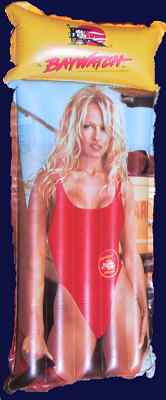 ---
RUSSIAN FANTASY SURPRISE AIRMATTRESS

WARNING - DO NOT SCROLL LOWER ON THIS PAGE IF YOU ARE LIKELY TO BE OFFENDED
Airmattresses give people a lot of pleasure relaxing in the sun and having fun in the sea . . . This airmatress is no exception but it has an added bonus . . . It's any man's dream, and has been singularly effective for ameliorating the high winter suicide rate in northern climes. The webmaster has a friend who has recently lost his wife . . . and he'll be receiving one shortly. Were he to take one to the beach, do you think that it would help him to find a wife more easily . . . or would eligible ladies run a mile? Please Email the webmaster with your opinion.

Give this to any man and he'll be your friend for life! You could give it to him just to see him blush . . . or it could ensure that he'll never run off with another woman, making sure that the competition is not real . . . Excellent for keeping a relationship together . . . Or the best device for family planning . . . featuring an undressed young lady that knocks top-shelf magazine images into a cocked hat . . . This one has a single pocket in an unmentionable place that will keep your partner firmly affixed, tanning only his back.

WARNINGS:
WHEN WALKING TO THE BEACH BEWARE OF THIS AIRBED CAUSING CAR ACCIDENTS ALONG THE WAY :-)
THIS AIR BED IS GUARANTEED TO WALK OFF IF LEFT UNATTENDED. :-) SO UNLESS YOU HAVE ANOTHER FAMILY MEMBER ON THE BEACH WHO IS WILLING TO BE SEEN WITH IT, YOU CANNOT GO OFF AND HAVE A GOOD SWIM. CUSTOMERS WITH PRIVATE POOLS REPORT CONSIDERABLE SATISFACTION. Wise wives buy these for their adored husbands.

NOTE: as supplied, the pink hole shown in the photograph below is covered and printed as part of the image. It is a special seal which is opened by reasonable pressure with a finger. This means that this airmattress can be more overtly carried around than appears at first sight from the photo below, but don't take it to the Lido.. The main airmattress is a pink/purple tinted clear transparent with the figure printed in solid colour.

WE NOW HAVE STOCK! These will go like hot-cakes - order yours now for that extra special birthday or Christmas present . . . or to cause a stir for that office party or bound to be a hit for stag nights.
Email the webmaster if you want to order one. £28 + postage £5.

Current stock: 30Ordering
---
Click here for a review of the different types of airbed / air mat / air mattress / lilo available in the South of France. They can be brought to England by a special arrangement
---
WE ALSO HIRE OUT AIR MATTRESSES FROM OUR EXTENSIVE HISTORIC COLLECTION OF AIRMATTRESSES AND 1960s LILOS FOR FASHION PHOTOGRAPHY AND OFTEN SUPPLY INFLATABLES IN BULK FOR THEATRICAL PRODUCTIONS, CORPORATE PROMOTIONS, ARCHITECTS AND ARTISTS' INSTALLATIONS (Danubian Dream, for instance in Bratislava). OUR COLLECTION INCLUDES LILOS FROM THE 1950s AND 1960s. (The webmaster's grandfather used to sell lilos from that period when rubberised canvas lilos would cost £2 to £4 - the equivalent of £30 to £60 now. There is nothing quite like them now . . . )
---
TIPS FOR LOOKING AFTER YOUR INFLATABLES
We hope that these inflatables will give you years of service! We only stock items of good quality which we can personally recommend.
When inflating, there is a non return valve which has to be opened by squeezing at the base of the tube either with fingers or teeth. Sometimes if you see which side it is fixed, you can feel through the plastic from the other side and keep the flap of plastic open with your fingers / fingernail.
Lick around the stopper before putting it in: a layer of moisture helps airtight insertion and assists the seal.
When deflating, use a thin straw or stick to keep the non-return valve open - it's easier than sqeezing
To ensure long life, when folding up your lylo, if you can fold on parallel lines at full width |||||| rather than at right angles ++. If the weather is hot, this may be irrelevant but at least one manufacturer recommends taking care (particularly when unfolding on sharp corners) below 16 degrees centigrade.
---
If you are a wholesaler or regional distributor and are looking for a manufacturer of inflatables, beach toys, pool toys and air mattresses click here for OKIP in Hong Kong

(Someone wrote to the webmaster with a rather graphic description of activities that they had enjoyed on top of an 18 pocket type . . . but we had to censor them! )

---
Beaches of the French Riviera | Hotels in Antibes |Cafes | Mobile Homes at Antibes | The Cap d'Antibes where the webmaster can put you in touch with the owners of an old villa to rent | Nice from the Air | Last minute Mediterranean Holiday availabilities and opportunities | Real estate and property to buy in places for sunbathing | Self catering accommodation in France Italy Spain Balearic Islands and Greece near beaches to enjoy your airbed! |

.
.
.
.